Originally posted July 26, 2011
Just after the 4th of July Noah had the surgery to remove his pins and external fixator from his leg finally. The doctor decided to do what's called nailing, where they put a rod in the center of his bone to help support the bone. Because of this Noah had to spend the night in the hospital which we were not expecting and did not plan for, but it also meant less time on crutches. Luckily we made some great friends this year, Melissa and James, who's little boy also has FH (fibular hemimelia) just like Noah. They live down near the hospital and see the same doctor Noah does, and Melissa went to the hospital and sat with Noah while Arron went to the store to get a few things they needed for their overnight stay. We are so thankful to them. Noah would not have liked being left by himself at the hospital, and I was at home two hours away with the girls because they are too young to visit Noah in the hospital. He came home the next day and did so well. He was up using his crutches and getting around just fine. A week later he went back for a check up and to take the bandage off his leg, and they told him he could start walking on it whenever he wanted. He started off slow, but within a couple days he was walking just like normal, as if he had never had a limb lengthening surgery. We were so glad it was finally all over and he could really start enjoying the rest of his summer and also wearing normal pants again.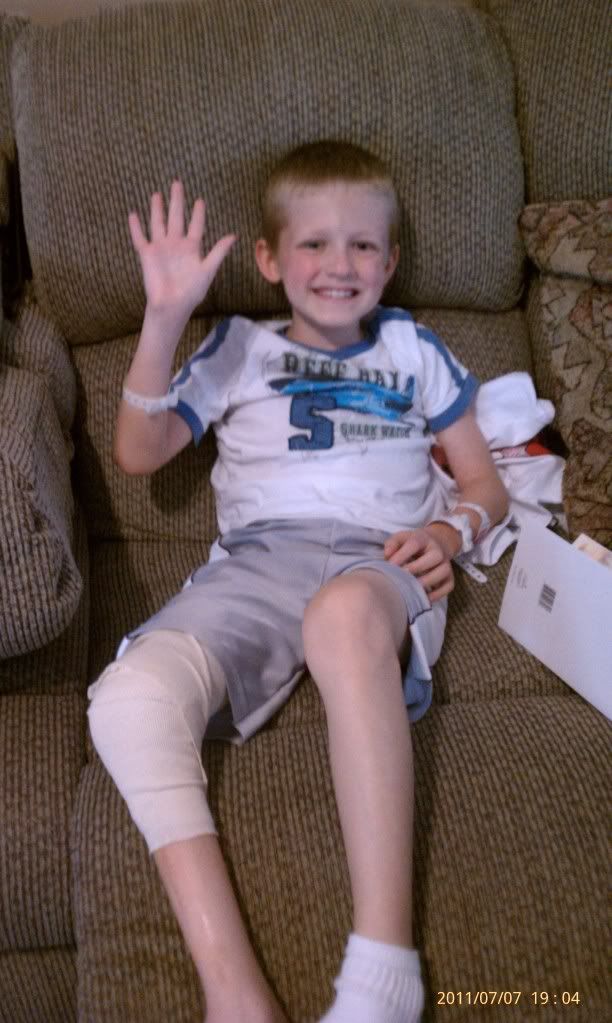 Home from the hospital with no pins in his leg.
Showing off his scars after the bandage came off.
Done with crutches after only a week.